Steampunk search on eBay brings out the fetish in sellers
I decided to have a nose around eBay today for some steampunk gear (well, my birthday isn't too far off now).
As you may (or may not) know, the outfits are often quite Victorian in style and corsets are common - mostly over the clothes. So, clearly you'd expect a lot of corsets to pop up. I do enjoy a good gander round the wonder range of corsets that are made for this alternative fashion. I know I need to buy the right blouses for it, long skirts, coats, hats, goggles...yes the list is almost endless. Not a cheap style to acquire but a bit of window shopping is good for the soul (or something like that).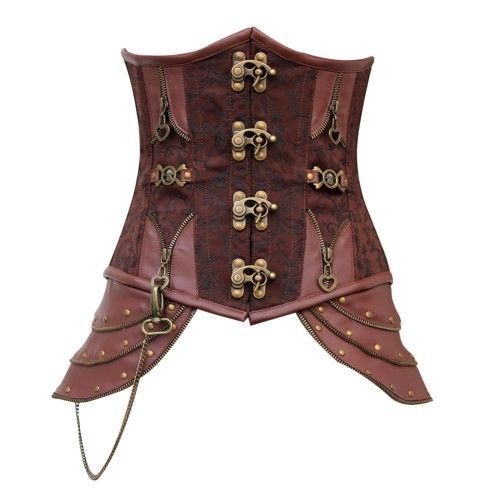 Buy me now!
Quite a few of the corsets are shown either as a 'white background image' (see above) or are modelled in the traditional 'catalogue' format by a real person - well real in the sense of someone who is a model and therefore nothing like most of us women who are buying the stuff. But then of course us girls need to see how wonderful these items would look if we were a size 8-10 and had 36" long legs don't we. I digress...
However, there are some people who have - in my opinion - just got it wrong. Badly wrong. This lady is one example. Really....what the fuck is going on here?

Does she realise she's forgotten to model the knickers? Was she so keen to get the image up on eBay that she thought "oh to hell with the fact I can't find the knickers in my drawer, I'll just forget about them" or is she making the point of "I'm clearly not selling the matching knickers". I don't know. I'm no prude but...really? She's not the only one. If you recall when I was looking to sell some bras, similar images cropped up (see here)

Next time love, just lay the corset/basque out on your bed or floor like most other people do or, if you're desperate to show how marvellous it looks on - do us all a favour and buy a mannequin! *shudder* Suffice to say I've stopped looking on eBay and reverted to some of the better known alternative fashion suppliers.